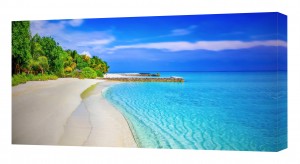 We only use the highest of quality canvas.
InkjetPro Premium Edition, A Bright White Archival Canvas, Matt
InkjetPRO Premium Edition is a bright white (ISO 105) product with excellent water resistance and stretching qualities.
InkjetPRO Premium Edition is an Archival product being Acid free in the base, which is made of a 70/30 cotton/polyester blend of USA made canvas for maximum dimensional stability and limited shrinkage. When coated with InkjetPRO Aquathane-UV the combination provides extreme strength and can survive repeated flexing at 180 degrees for gallery wraps.
This product features a mild optical brightener (OBA).
Specifications
Weight: 400gsm
Construction: Bright White Cotton/Polyester
Surface Type : Medium-High Textured
Thickness 19 mil
OBA : Yes
ISO: 105
Country of Origin: USA
All canvas prints are coated with InkjetPRO Aquathane-UV, and stretched onto kiln dried frames.